Skip to Content
Nurturing Kindergarten Care in Pennsylvania & New Jersey
Just Children Child Care Centers Instill a Love for Learning
Just Children Child Care Centers take pride in our nurturing kindergarten care in Pennsylvania and New Jersey. Because we understand kindergarten helps set the stage for your child's education, we take balancing the right amount of learning and playtime very seriously. Your son or daughter's future successes hinge on their early education more than you may think. Students who fall behind both academically and socially may find it challenging to catch up as they move through their educational journey. When you enroll your child in one of our eight schools conveniently located across Eastern Pennsylvania and Southern New Jersey, you won't have to worry about a thing. Our kindergarten curriculum is based on the belief that your child's kindergarten experience should prepare them for the primary grades, both academically and socially. Perhaps even more than math, reading, or science, the single-most-important thing our students gain from our curriculum is a lifelong love for learning. Children who love to learn tend to perform better in school and make your job as a parent easier.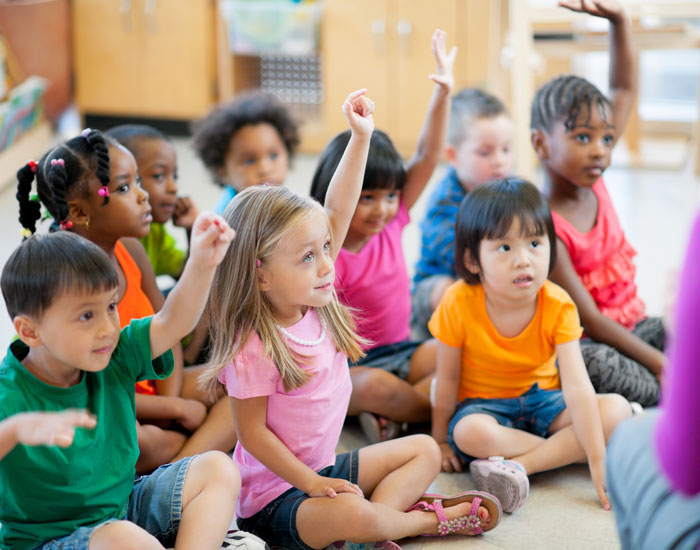 How Our Kindergarten Curriculum Focuses on Child Learning
At Just Children Child Care Centers, we consider our kindergarten curriculum to be rather unique. We believe early childhood care and education is about so much more than just reading, writing, and arithmetic. Anyone can learn to recite facts, even from an early age. We also cherish the importance of incorporating creative arts, dramatic play, computers, and gymnastic activities into your child's day. Our individualized kindergarten program blends primary grade preparation with art education designed to enrich child learning both in and out of the classroom. Focused on developing your child's social and academic skills, our curriculum's mission is to:
Concentrate on reading, writing, math, science, and social studies
Promote creativity, independent learning, and individuality
Develop your child's self-confidence, socialization skills, and problem-solving abilities
Curious about enrollment and tuition costs? Check out our parent resources section, which includes parent forms, recommendations, informative blogs, and more details about our program affiliates.
Why Choose Just Children Child Care Centers for Your Child?
Founded in 1983, Just Children Child Care Centers provide early childhood care for children ages two months through kindergarten. Our year-round childcare programs incorporate child learning in and out of the classroom. Every location in Pennsylvania or New Jersey features state-of-the-art equipment and computers in the classroom, as well as an elaborate outdoor playground designed to promote your child's gross motor skills development. Our staff is state-licensed and CPR-certified for your peace of mind. We organize various special events throughout the year, including sports, field trips, nature studies, and class picnics. Studies have proven children retain more knowledge when learning is fun and exciting, which is why we do our best to ensure your child is always kept engaged with plenty of learning activities in our secure, nurturing environment.
Keystone STARS Recognizes Our Early Childcare Programs
We've partnered with Keystone STARS to enrich your child's education with primary school preparation combined with the STEAM program. Keystone STARS is the Pennsylvania Department of Education's quality rating system measuring Standards, Training/Professional Development, Assistance, Resources, and Supports. Enrolling your child in a facility with the Keystone STARS designation lets you know your son or daughter is being supported in a safe, respectful environment that challenges him or her to learn something new every day. The STEAM program emphasizes science, technology, engineering, the arts, and mathematics to engage students with numerous learning opportunities to better prepare them for the demanding jobs of the future. We're excited to play a role in molding tomorrow's leaders.
Take Advantage of Our Before-and-After School Care & Camps
Not only do we provide childcare for preschoolers and kindergartners, but we also offer summer camps and before-and-after school programs for children of all ages. You can feel good about dropping off your children before or after school here because they'll be able to interact with other kids their age in a fully-supervised environment that fosters fun and learning. Our staff can even offer individualized academic support to struggling students. Just let us know how we can help your child succeed!
Creating Well-Rounded Kindergartners Is Our Primary Goal
Creating well-rounded kindergartners is our goal. Throughout the school year, your child will learn valuable skills and knowledge that will enable them to be successful throughout primary school. Most importantly, they'll be excited to come and see us every day. Just Children Child Care Centers are now enrolling for full- or part-time kindergarten care throughout Pennsylvania and New Jersey. Find the location closest to you and arrange to take a private tour to see what sets us apart from other early childhood care programs in the vicinity. Please contact us today to learn more about our exciting, enriched kindergarten programs. We would love to welcome you and your child into our family!
Now Enrolling!
Full or Part-Time Flexible Days Available