Skip to Content
About Us & Our Child Care Programs in NJ & PA
Just Children was founded in 1983 and today operates eight child care centers throughout Bucks County, Philadelphia, and New Jersey. We offer a unique learning environment for children ages two months through kindergarten, focusing on helping children build the skills they need to succeed in school and in life. Our programs are year-round, making them perfect for working parents who need childcare during the work week. We design every program with age-appropriate activities focused on developing methods of exploration, reading, and math readiness. Continue reading to learn more about our programs and the environments we create at our facility or give us a call with any questions or to schedule a tour.
Our Mission Statement
Just Children strives to enrich the lives of children and to create a worry-free experience for parents by providing a safe, nurturing environment governed by the highest standards of care, creativity, and learning.
Equal Opportunity Employer & Equal Opportunity Care Provider.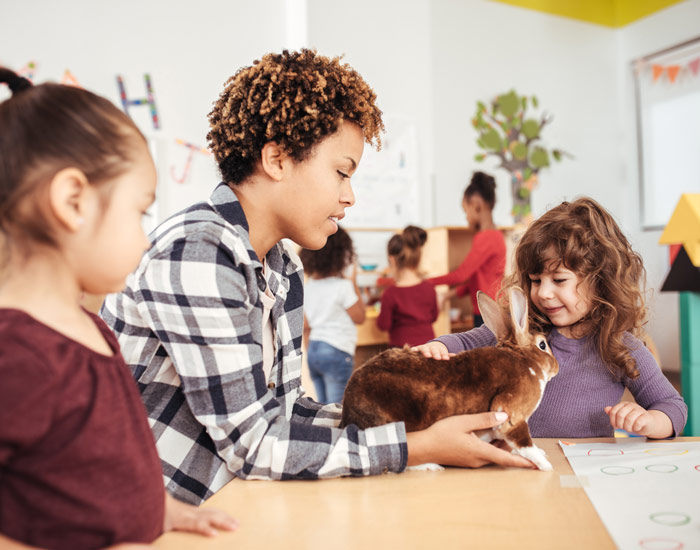 Environments that Promote Learning
At Just Children, we design every classroom and play area to promote exploration and learning. Each of our eight centers includes an elaborate outdoor playground built to promote gross motor skill development, as well as an indoor playroom for large muscle activities. Classrooms are also set up to keep kids comfortable and engaged during more formal lessons. Each classroom has a computer, which is used to teach children basic skills as they begin their journey of learning technology. During summertime, we strive to take learning outdoors, planning activities like water play, organized sports, field trips, nature study, and special picnics and barbecues. No matter what environment your child is in at our centers, you can be sure they're always learning.
We Take a Fun Approach to Learning
Children learn best when they are engaged and enjoying themselves, which is why Just Children works to cultivate an environment of fun in all their programs. Through a variety of age-appropriate activities, classroom time, and free play, your child will have fun and learn valuable life skills. We encourage all our students to express themselves creatively, helping them build confidence in themselves. You can be assured your child will get a well-rounded education and have fun while doing it.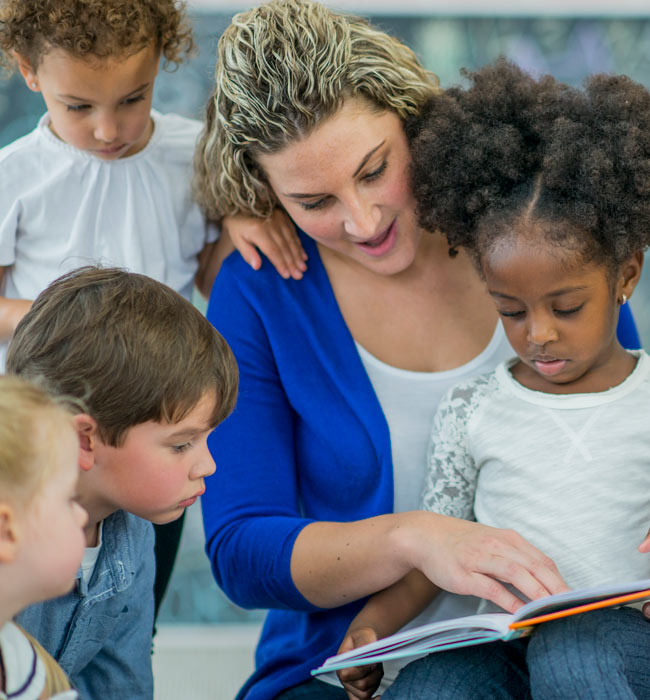 Our Learning Programs
As a parent, you always want what is best for your child, and that starts with ensuring they get the best education. Our child care facilities and learning programs will set your child up for success in the future, helping them gain important life and educational tools. Our programs are designed to meet the age requirements of our students and are led by experienced professionals with backgrounds in education and early childhood development. You can feel confident that your child will learn, grow, and thrive at any of our locations in Pennsylvania and New Jersey. All of our child care centers offer the following programs:
Infant & Pre-Toddler: We know how difficult it can be to leave your infant and return to work, but we make the transition easy. We provide individualized childcare services to ensure your baby keeps the care and attention they need. Our team will ensure you infant gets scheduled feedings, naptimes, and interactive play with toys to develop their senses and motor skills.
Toddler: Toddlers have lots of energy and a natural curiosity, making them eager to learn. Our toddler programs are designed to capture that energy and channel into a variety of activities that are fun and will help your child build new skills.
Pre-School: Though children begin learning long before school, pre-school is their first glimpse at a more formal education setting. We get your child ready for years in the classroom, while still allowing them to have fun and be a kid.
Kindergarten: Kindergarten goes a step beyond pre-school in preparing your child for educational success. This program strives to keep the balance between learning and playtime, so your child gets a well-rounded experience. Both are important for future success as an adult as playtime helps children develop important social skills.
Before & After School: As a working parent, you are often unavailable to drop off or pick up your child from school. With our before and after school programs, you can be sure your child has a safe and supportive environment to do homework and play with others until you are able to pick them up.
Summer Camp: Summertime means children are out of school, but that doesn't mean learning should stop completely. We offer summer camp programs to ensure your child has appropriate care while schools are closed for the season. These summer camps offer fun and engaging programs that will help children grow their skills even outside the classroom.
Eight Learning Locations Throughout New Jersey & Pennsylvania
Just Children offers eight locations to serve the needs of parents in New Jersey and Pennsylvania. Each of our locations will provide your child with a supportive, nurturing environment where they can learn and grow as an individual. If you are interested in learning more about our programs or would like to schedule a tour of one of our facilities, please feel free to reach out to us. Our team can answer any questions you may have and set up a time for you to visit us.
Now Enrolling!
Full or Part-Time Flexible Days Available