Skip to Content
Child Care in Mt. Laurel Township, NJ – 2042 Briggs Road Rts 38 & 295
Innovative Child Care Services for New Jersey Families
Your family life can be busy and full of responsibilities like work, errands, and school. Trying to balance your parental life with your daily responsibilities can be difficult, but Just Children Child Care Centers can help. We serve Mt. Laurel Township, NJ with child care programs at our location at 2042 Briggs Road, Routes 38 and 295. Our staff has ample experience caring for children, complete with impressive child care skills and expertise. We pair our knowledge of the latest early childhood education methods with warm, supportive care in a safe, stimulating classroom atmosphere. Children can feel comfortable and have fun while learning, and parents can relax knowing we're a family-owned, fully licensed child care center. Children get nurturing support and a confidence-building experience.
Child Care Programs for Infants, Toddlers, & More
Just Children Child Care Centers covers a wide array of child care needs for infants, toddlers, preschoolers, and kindergarteners. We specially design our child care programs for these age groups and extend our options to grade school students as well. Children get the support and enrichment they need for their education and life experiences. All our New Jersey and Pennsylvania child care centers feature entertaining playgrounds and state-of-the-art equipment so children stay engaged and learning and entertainment. Our staff also encourages children to explore creatively and develop positive decision-making skills. You can rest easy knowing your child receives warm, nurturing care in a classroom atmosphere promoting their growth and development.
You can rely on us for the following child care options: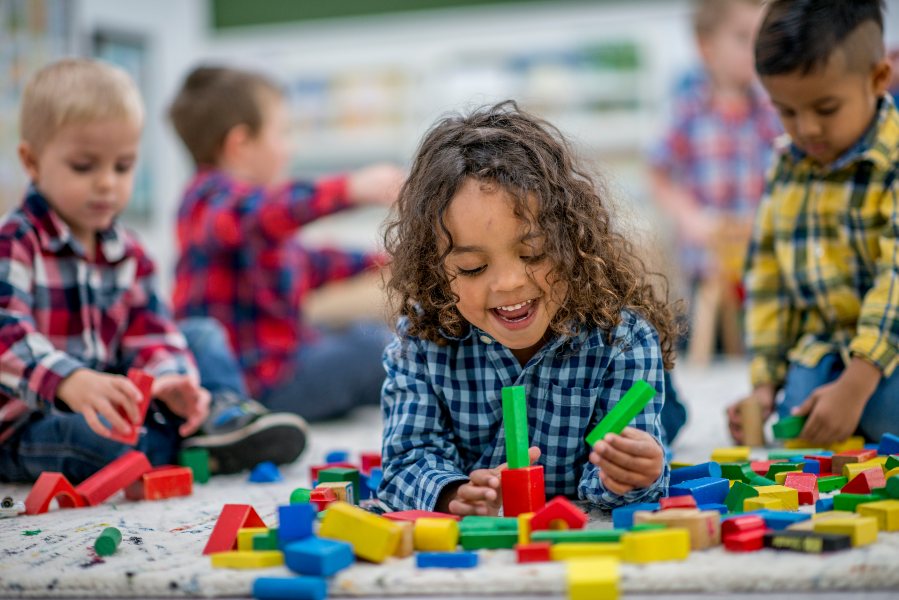 Child Care Programs for the School Year & Summer
If you need child care for your grade school tyke before and after school, Just Children Child Care Centers has you covered. We keep your child safe and happy while engaging them in fun activities, or they can complete their homework. Children can feel welcome and supported before their school day starts or after they leave for the day. Meanwhile, you can concentrate on work, school, and other responsibilities without worrying about your child. When the school year ends, you can turn to us to entertain and watch over your child at our summer camp. This fun-filled adventure for kids keeps them engaged in exciting activities like music, movement, gymnastics, and outdoor fun. Our friendly staff ensures children get the attention and care they need to learn, grow, and relish their summertime.
Contact Us for Child Care in Mt. Laurel Township, NJ
Get high-quality child care in Mt. Laurel Township, NJ by entrusting Just Children Child Care Centers with your children. Our programs cover a broad range of age groups, from infants to grade school students. You can rest easy knowing our staff's training and experience have shaped them into exceptional caregivers with warm, friendly treatment and support. We help your child grow and develop as they enjoy fun and education in a safe environment. Children deserve a safe place to spend their time while their parents take care of their households. Our comprehensive child care programs give your child entertainment and learning to ensure they're happy and healthy. Contact us today to learn more about which child care program suits your child's needs, and register at the center closest to you.