Skip to Content
Premier Childcare Program in Philadelphia
Just Children Child Care Centers in Philadelphia
Just Children Child Care Centers offer an exciting learning environment for children in Philadelphia. Our two locations in Philadelphia offer educational and social programs from eight-week-old infants to elementary-age children. Just Children is proud to be a fully-licensed, family-owned facility where children come to learn and grow. We've served Philadelphia since 1983 with compassion and care. Our infant programs, after-school programs, Summer Camp, kindergarten program, and more are designed to boost your children's education and social skills. We offer full-time or part-time flexible days for your convenience.
Just Children Child Care Center – 2901 Grant Ave
Address
2901 Grant Avenue
Philadelphia, PA 19114
Phone: (215) 677-1711
Hours of Operation
Monday: 6:30 AM to 6:00 PM
Tuesday: 6:30 AM to 6:00 PM
Wednesday: 6:30 AM to 6:00 PM
Thursday: 6:30 AM to 6:00 PM
Friday: 6:30 AM to 6:00 PM
Stimulating Programs for All Ages 
Just Children Child Care Center has specialized programs that focus on math, reading, and exploration methods. Our two locations in Philadelphia have gorgeous outdoor playground areas where children socialize and learn through play. We provide computers in each classroom for learning through technology. You'll find the children outside playing on warm days and enjoying field trips, nature studies, and organized sports. Our childcare programs include:
Infant & Pre-Toddler Child Care – Infants learn through educational activities and playtime from eight weeks of age. They have a set feeding and napping schedule throughout the day. We monitor their physical motor skill development and help them learn to socialize at a young age.
Toddler Child Care – Our toddlers are excited about learning through our holistic approach to education. We have a set curriculum with an excellent blend of education and playtime.
Pre-School – Our preschool child care programs are filled with fun and learning. The innovative educational sources and curriculum help preschoolers quickly learn and grow with a large amount of playtime to socialize.
Kindergarten – Kindergarteners follow an exemplary curriculum that prepares them socially and academically for primary grades. They play outside as much as possible to learn through play.
Before & After School – School-age children enjoy socializing and continued learning with peers after school each day.
Summer Camp – Summer Camp is a fun and exciting way to get children out of the house to learn and play throughout summer vacation. Each day is filled with field trips, water play, and socialization.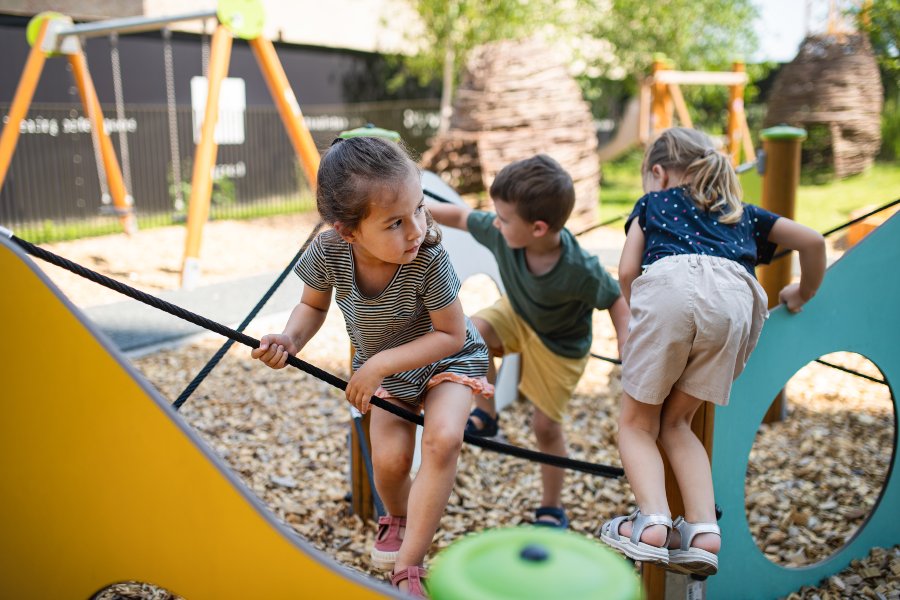 Learning Is Fun At Just Children
Just Children helps your child have a great time as they learn and grow through playtime and curriculum. We want children to feel challenged to learn something new every time they walk through our doors. They feel loved and secure with us while learning from our team of experienced instructors. We ecially design our curriculum to help children develop confidence, self-discipline, and cognitive skills. We partner with Keystone STARS and the Bright wheel program to boost your child's learning experience.
Visit Our Philadelphia Locations
We understand the need to find a child care center where your child is excited to stay each day. At Just Children, your children are treated like family as they grow and learn. We invite you to take a tour of our Philadelphia locations. We'll answer your questions and address any concerns. You get to meet our teachers, leaders, and other students. We also invite you to observe any classes and programs. Contact us today!