Skip to Content
Child Care Program Overview
Enroll in Preschool in the Philadelphia Area
Just Children Child Care Centers provide numerous educational opportunities, including preschool and kindergarten, to children throughout the Pennsylvania and New Jersey region. Many of our ten child care centers are located in Philadelphia and Bucks County, as wells as four locations in New Jersey. Our programs are offered for all children from ages 2 months through kindergarten, as well as school-age children and are meant to prepare your child for the rest of their educational experiences. The year-round, as well as the before and after-school programs, are designed to develop methods of exploration, reading, and math readiness for all children. Call us today to learn more or to set up a time to visit one of our locations.
A Fun Approach to Learning
Studies have shown that children retain much more knowledge when learning is exciting, which is why we ensure that your child is having fun while they learn. We utilize a flexible curriculum to encourage children to grow, and it is also structured to develop the necessary cognitive skills and self-discipline that will be so crucial to their success. We never want any of our students to feel left out, which is why our programs are designed with each and every student's unique traits in mind, and they promote a healthy mix of learning and play.
We offer infant care, child care for toddlers, preschool and kindergarten, as well as before and after-school programs at all of our locations. Each one of our centers features an outdoor playground that is designed to promote the development of gross motor skills for children of all ages. We also help children to learn technology by equipping each classroom with a computer and iPads. In the summertime, we take our learning outside to explore the outdoors and enjoy water play, sports, and nature studies.
Feel Confident Leaving Your Child
Our developmentally-based child care centers are an excellent option for working parents seeking a child care center to help grow their child's education. We know that leaving your child for the day can be very stressful, especially if this is your first child care experience. We don't want any tears shed at drop-off time, which is why we strive to create a comforting and fun environment to put your child at ease. Our main goal is to allow you to go back to work, confident in the knowledge that your children are being cared for in a loving and supportive environment. Our staff is highly experienced and professional so you can rest easy knowing your children will learn and laugh every day.
Get involved at Just Children
At Just Children, we don't want the parents to feel left out of all the fun. That's why we encourage parent involvement and participation at all levels of our programs. We feel that parent involvement helps to unite the home and school lives of your children and reinforce the emotional climate we believe is so important to their development.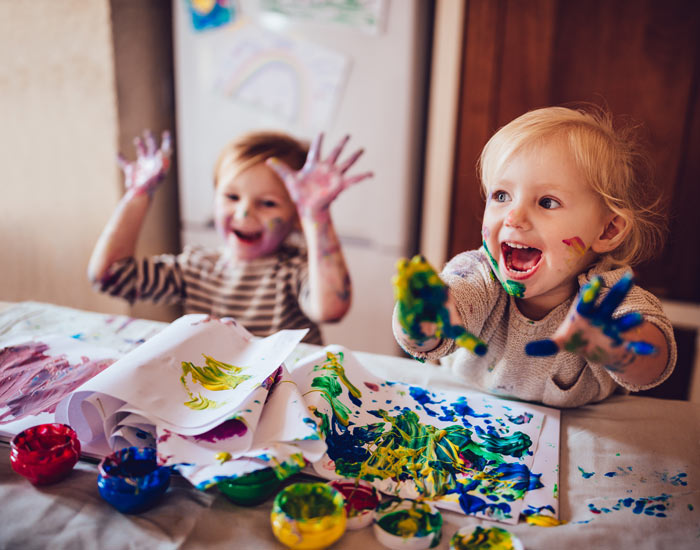 Ten Philadelphia-Area Child Care Centers to Choose From
Just Children serves communities in both New Jersey and Pennsylvania, providing infant care and child care for toddlers in the Philadelphia area and beyond. At our ten child care centers, we promote a love for education at every age of development. We believe education should be fun, and your children will reap the benefits of that belief through our interactive and exciting learning programs.
We Teach Children from Eight Weeks to School Age
We serve communities in both New Jersey and Pennsylvania. At our 10 centers, we promote a love for education at every age of development. We believe education should be fun, and your children will reap the benefits of that belief.
Infants
Toddlers
Preschool
Pre-K
Kindergarten
Before & After
Summer Fun Camp

Infants

8 Weeks - 12 Months

Toddlers

1 & 2 Year Olds

Preschool

3 & 4 Year Olds

Pre-K

4 & 5 Year Olds

Kindergarten

5 Year Olds

Before & After

School Age

Summer Fun Camp

All Ages
Enroll Your Child in Pennsylvania's Head Start Program
At Just Children, we're a certified provider of Pennsylvania's Head Start program. We firmly believe that every child deserves a quality early education, regardless of income level. This program provides care for low-income families by immersing them in activities to help them grow mentally, socially, emotionally, and physically. The program also helps to support the family as a whole, getting the parents involved and helping them to develop their parenting skills. If you're interested in enrolling your child in Head Start, do so today. Preschool in Philadelphia has never been this exciting!
Schedule a Visit
Do you want to learn more about our child care programs in Philadelphia, Bucks County, and New Jersey? You can see our students and staff in action by scheduling an appointment with us. We welcome all interested parents to observe a class and meet our enthusiastic and dedicated staff. When you see the caring attitude of our teachers and the smiling faces of the children, you're sure to know this is the right place for your child. Get in touch with our team today to schedule an appointment for a visit.
Now Enrolling!
Full or Part-Time Flexible Days Available