Skip to Content
Learn More About Our Child Care Programs
An Overview of the Programs Offered by Just Children
As a parent, the educational opportunities of your child are always one of your top priorities. You want to ensure you are setting your child up for success by enrolling them in a program that will help them develop essential life and educational skills. At Just Children, we offer numerous child care programs for children throughout Pennsylvania and New Jersey. Several of our nine locations are located in Bucks County around Philadelphia, but we also have four centers in New Jersey. Our programs are designed to help children of all ages learn and grow in a fun and nurturing environment. Please continue reading to learn more about our programs or reach out to us today with any questions.
Certified Provider of Pennsylvania's Head Start Program
Just Children is a certified provider of Pennsylvania's Head Start program. We are proud to be a part of this program because we firmly believe every child deserves access to quality early education, regardless of income level. The Head Start program provides low-income families with access to quality child care that offers educational activities.
Students will participate in programs that help them grow mentally, socially, emotionally, and physically. In addition, the program helps to support the entire family, encouraging parents to get involved and further their relationship with their child and advance their parenting skills. Please reach out to us if you would like more information about our Head Start programs in the Philadelphia area.
We Have Numerous Programs for All Ages
Our child care centers offer programs for children as young as two months through elementary age. Our year-round programs are designed to prepare your child for school and life by helping them develop essential skills. These programs will focus on methods of exploration, reading, and math readiness, ensuring your child gets off to the right foot in their educational journey. Each of our locations has an outdoor playground area designed to keep them learning even during playtime. Your child will also learn about technology through the use of computers and iPads. You can be sure that your child will get a well-rounded education, no matter their age.
We offer the following programs: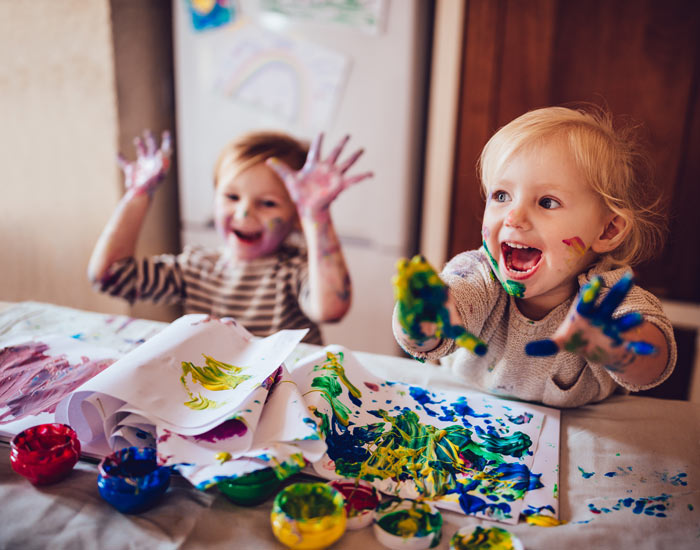 We Take a Fun Approach to Learning
At Just Children, our goal is to make learning fun! Studies have shown that children retain more knowledge when lessons are exciting, which is why we incorporate fun, engaging activities that will challenge your child to learn something new. We have a team of experienced instructors who utilize a flexible curriculum to meet the unique needs of each child. Our curriculum is designed to encourage children to grow and helps them develop important cognitive skills, self-discipline, and confidence that are essential to their success in the future.
We Have Eight Child Care Centers in Pennsylvania and New Jersey
Just Children has eight locations to serve communities and parents in New Jersey and Pennsylvania. No matter which of our locations is most convenient for your daily commute, you can be sure your child will be receiving the very best care in a fun and supportive environment. We strive to promote a love for education at every age, helping your child develop a healthy appetite for learning. Watch your child grow as they participate in our interactive and exciting learning programs.
Infants
Toddlers
Preschool
Pre-K
Kindergarten
Before & After
Summer Fun Camp

Infants

8 Weeks - 12 Months

Toddlers

1 & 2 Year Olds

Preschool

3 & 4 Year Olds

Pre-K

4 & 5 Year Olds

Kindergarten

5 Year Olds

Before & After

School Age

Summer Fun Camp

All Ages
Leave Your Child in Our Caring Hands
As a parent, it's normal to feel a little uneasy leaving your child in a new and unfamiliar environment. This feeling can worsen if your child is upset at the idea of being away from you. Our staff strives to make both parents and children feel comfortable. We don't want any tears shed at drop-off time, which is why we create a fun, nurturing environment that will put both you and your child at ease. You can confidently return to work, knowing your child is in the very best hands.
Get Involved in Our Programs
At Just Children, we encourage parents to get involved in the fun! We offer numerous opportunities for parents to help with events and participate in activities within all our programs. Being involved with your child's education helps to unite their home and school lives, creating a proper emotional climate, which we believe is vital to their development. Be sure to ask how you can get involved in our programs!
Schedule a Visit at One of Our Centers
Before enrolling your child, we understand that you'll want to see our facility and learn more about your child's daily environment. For this reason, we allow you to schedule a visit where you will see our students and staff in action. We welcome all parents to observe and class and meet our team. All you have to do is give us a call to schedule an appointment. Feel free to reach out to us today!
Now Enrolling!
Full or Part-Time Flexible Days Available