Skip to Content
Enriching Child Care Services
Toddler Child Care that Combines Learning and Excitement
At Just Children Child Care Centers, we provide toddler care services designed specifically to enrich your toddler's life. Our licensed and experienced educators take a holistic approach to education using various effective methods that stimulate a child's love of learning. Our curriculum is specifically designed for one- and two-year-olds. Your child will continually learn,  explore, and engage with their indoor and outdoor environments throughout the day. These are foundational years of learning and inspiration. Our educators have the experience and resources to empower your child. Contact our team today to schedule a visit at our nearest location.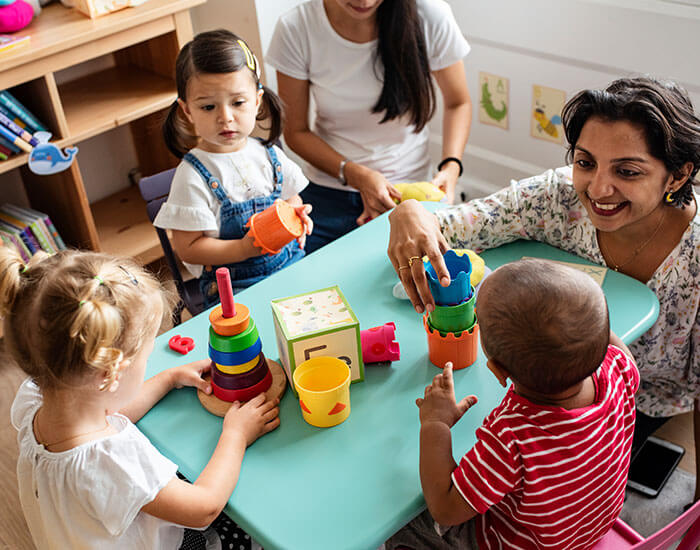 Developmentally-Supportive Toddler Care Environment
We don't take a one-size-fits-all approach to education. As your toddler begins to learn and develop new skills, our teachers are uniquely positioned to cultivate their particular interests. Our responsive education will help your child become a more confident learner as they continue their educational path. Our work doesn't end when we've found something your child loves. Our small class sizes mean your toddler will get the attention they deserve if they find themselves struggling with specific language, motor, or social skills. We work to help them find the ability to become a thoughtful and confident student and person.
Why You Should Choose Us for Toddler Care
It's essential to find the right toddler care center to meet your child's developmental needs. At Just Children Child Care Centers, we'll work with your child to ensure they receive the support they need to discover the confidence in themselves to become independent and thoughtful learners. We accomplish this by offering:
Customized Learning – When your toddler begins their education journey, they are absorbing everything they see, hear, touch, taste, and smell. Here, your child can explore their surroundings safely. Our certified educators will ensure your child's growing and changing curiosity is satisfied with purposeful activities that excite and educate.
Small Class Sizes – The proper student-to-teacher ratio is paramount to ensuring that your child receives the education they deserve. At Just Children Child Care Centers, we have a low ratio that allows our educators to spend more time cultivating a relationship with your child. The relationships built at an early age can help propel your child down their educational path.
Age Appropriate Centers – Our learning centers are designed to allow your child to explore and develop at a pace that is right for them. These centers include toys, books, games, and other activities to promote language skills, motor skills, and social skills.
Toddler Lunches – A large part of proper development for your toddler is the right nutrients. Every day, we provide nutritious lunch for toddlers enrolled in our classes. A balanced meal provides them with the proper fuel to learn and explore all day long.
Exciting Toddler Care Programs
At Just Children Child Care Centers, our mission is to enrich children's lives by creating a nurturing environment that allows them to explore the world around them. Our staff is state-licensed and CPR-certified, so you have peace of mind knowing that your toddler is safe while a member of our community. The foundation of your child's love for academics begins now. Let the team of knowledgeable and professional educators at Just Children Child Care Centers ensure it's a solid one. Contact us today to schedule a visit or begin enrollment!
Why Just Children Child Care Centers?
At Just Children Child Care Centers, we believe learning should be fun, especially at this age. What may look like chaos is the first step towards independence. Our mission is to enrich the lives of children by creating a safe, nurturing environment. Our staff is state-licensed and CPR-certified, so you never have to worry about your toddler's safety while enrolled in our child care programs in Pennsylvania and New Jersey. We also offer child care for infants, preschoolers, and kindergarten-age children, as well as before-and-after school programs and summer camps for children of all ages in both states. If your child is struggling academically, we can even make arrangements for individualized academic support from our caring staff before or after school. We're dedicated to helping children succeed in every way!
Now Enrolling!
Full or Part-Time Flexible Days Available