Skip to Content
We Provide Fun-Filled Toddler Child Care
Raising a toddler is exhausting. They bounce from one activity to the next and possess seemingly ceaseless energy. But did you know this whirlwind of physical activity is vital to their development? Play, whether supervised or unstructured, encourages exploration, comfort with other children, fine motor skills like walking backward and tossing objects over their head, and listening to and learning from adults. Just Children Child Care Center is a leader in toddler child care. Parents trust us to provide a fun-filled educational experience for their children, filled with art, music, and laughter. We understand how essential these two years are, and we're thrilled to provide a nourishing environment for one and two-year-old children to learn.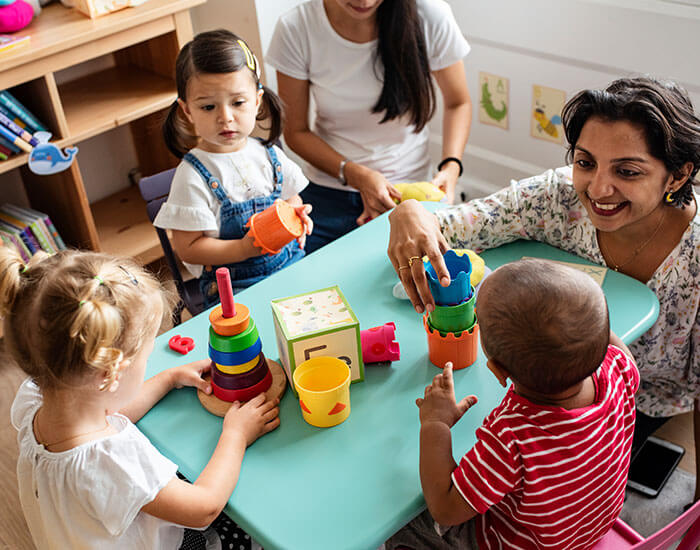 We Encourage Play to Help Your Child Learn
We cultivate young minds by introducing your children to language, dramatic play, the arts, and beginner educational concepts. We use storytelling and music as educational tools to help your child develop a lifelong passion for learning and strong communication skills. We encourage in your toddler a strong sense of self-expression, whether in the form of painting, drawing, or dancing. Our play-centered curriculum will pay numerous dividends down the road, including:
Play builds confidence: Toddlers who are comfortable playing will have an easier time following directions from teachers and making friends in school.
It prepares toddlers for life: Dramatic play can help your child learn about frustration and anger, and help them develop the coping mechanisms they'll need to deal with them.
Learning should be fun, and at this age, it is absolutely vital. What might look like chaos is actually the first steps towards independence. Just Children Child Care Center provides parents with toddler child care in Pennsylvania and New Jersey. Our staff is state-licensed and CPR-certified, so you don't have to worry about your toddler's safety while at Just Children Child Care Center.
We Care For Children of All Ages
Just Children Child Care Center provides caring and compassionate toddler child care to Gloucester County parents. But we also offer care for infants, preschool, and kindergarten-age children, as well as various before and after school programs and summer camp for residents in both New Jersey and Pennsylvania. For more information on our schools, visit our locations page.
Now Enrolling!
Full or Part-Time Flexible Days Available