Skip to Content
Enroll Your Child in Pre-School Child Care
We Make Pre-School Fun for Children
At Just Children Child Care Center, we understand early childhood education is important for the future success of children. That's why our team strives to create a nourishing and inviting atmosphere were children can learn and have fun at the same time. Our pre-school child care programs are designed for children between the ages of three and four and focus on creating an imaginative, innovative, and fun-filled curriculum. In our pre-school programs, your child will take part in countless activities and experiences that prepare them for their educational future and set them up for success. Please reach out to our team today to learn more about our pre-school program and other child care services.
Developing a Passion for Learning through Activities & Engagement
Pre-school learning happens in other places than just the classroom. Children learn best when engaged and having fun. Though we aim to fully educate all our students, we also allow them to explore and discover things independently. We encourage them to be curious kids, and we make learning fun. Just Children enhances the learning experience through activities that are imaginative, educational, and entertaining all in one. We help children learn the basic skills they will need for school and life and enhance intuitive cognitive skills and problem solving for almost any situation. We aim to build a strong foundation for overall success and help kids thrive through interaction with teachers and their fellow students. Contact us to schedule your tour or enroll your child today.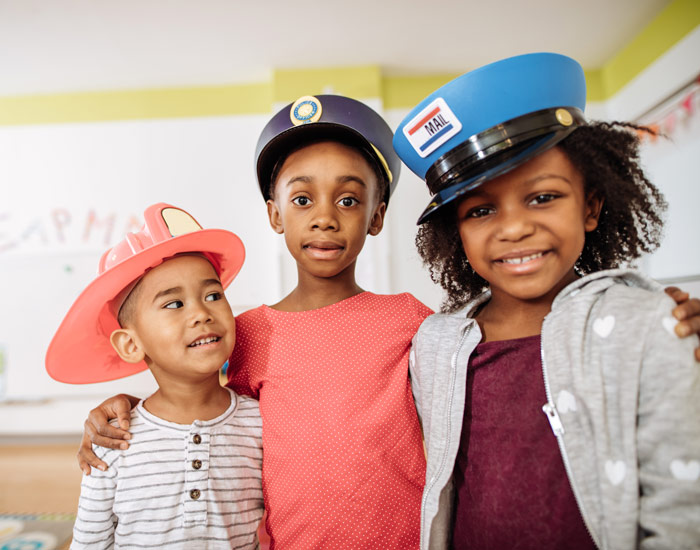 Put Your Children On the Path to Lifelong Success
As a parent, you want your child to be successful from an early age. With Just Children's pre-school program, you can set them on that path and help them get ahead of the pack. How do we accomplish that? Our innovative pre-school curriculum involves playful, interactive exercises and experiences that prepare your child both scholastically and socially. We focus on their educational goals and teach them to overcome challenges using their newfound reasoning and learned social cues. With the assistance of our pre-school childcare program, you will feel confident knowing your child is ready to take on kindergarten and the rest of their educational experience. Contact us today for more information to schedule your personalized tour.
We Prepare Kids For The Classroom
You want your child to be prepared for kindergarten and every grade that comes after. At Just Children, we aid you in that effort by providing a superior experience for your child in our pre-school program. We focus on building social and emotional skills throughout the school year, but also teach our children the educational basics, structure, and schedule they will encounter as they work their way through school. Our curriculum has proven to put our preschoolers ahead of the curve and set them up to succeed in kindergarten and beyond. The Just Children Pre-School program focuses on teaching your child:
Language Skills: We encourage your child to communicate clearly and effectively, both in the classroom and in social conversation with their peers. We develop vocabulary, speaking in complete sentences, and recognition of letters, numbers, and more.
Math Skills: Our pre-school programs teach children to recognize numbers and learn how to count. They also get a glimpse at the concept of adding and subtracting to prepare them for basic math skills later in their education.
Motor Skills: During pre-school, children will get the opportunity to grow their motor skills through physical activity such as using scissors, writing utensils, and more. We also encourage regular play, such as jumping, running, and holding, bouncing, or catching a ball during outdoor time.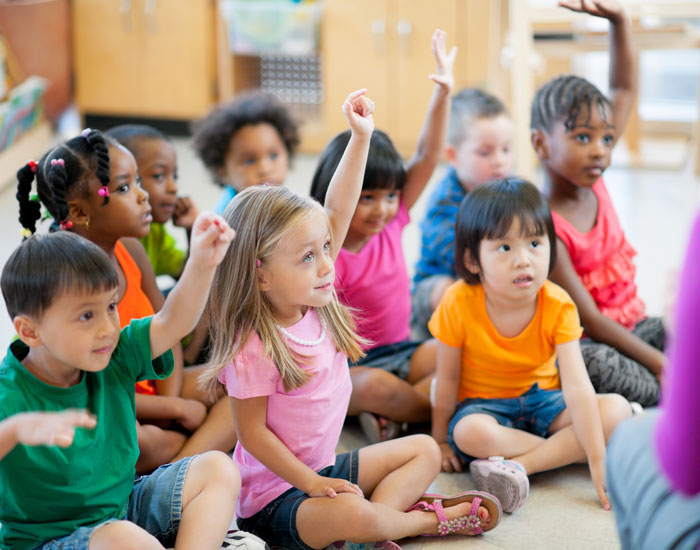 The Perfect Child Care Solution for Working Families
As a working caregiver, you understand just how valuable a reliable childcare center is. Just Children's pre-school program exists to be that dependable resource, educating your child and making your life easier. We can tailor and align your child's pre-school schedule around your working schedule. Our licensed, local educators keep your child engaged and safe all day. From the moment you drop them off in the morning to picking them up in the evening, they are in a nurturing, stimulating environment that combines activities, lessons, and many opportunities to play with other children.
Just Children makes it our mission to enrich kids' lives and create a worry-free experience for parents. We provide experiences and an environment governed by the highest standards of creativity, learning, and care. Contact us today to schedule your personalized tour and let us show you how we can help your child thrive.
Contact Just Children to Enroll Your Child in Our Pre-School Program
Just Children's pre-school prep helps your child be ready for future success. We have the capabilities, space, and resources to attend to their academic, social, and developmental needs. By enrolling your child in our program, you are giving them the tools they need to be successful and build a love of learning that lasts for life. If you would like to learn more about our programs, our teachers, or our curriculum, please feel free to contact us today. We can answer any questions and set up a time for you to visit with a personalized tour.
Now Enrolling!
Full or Part-Time Flexible Days Available