Skip to Content
Pre-School Programs
We Make Pre-school Fun for Children
Just Children Child Care Center strives to create a nourishing and inviting atmosphere for children to learn in. Our students learn the basic skills they need to succeed throughout all levels of their education. We approach pre-school with an imaginative, innovative and fun-filled curriculum. We combine group activities and one-on-one attention to develop problem-solving skills, cognitive development, and a lifelong passion for learning. We also understand the most important thing is your child's safety and the quality of their education. Our curriculum and well-credentialed teachers ensure your child's education is a worry-free experience.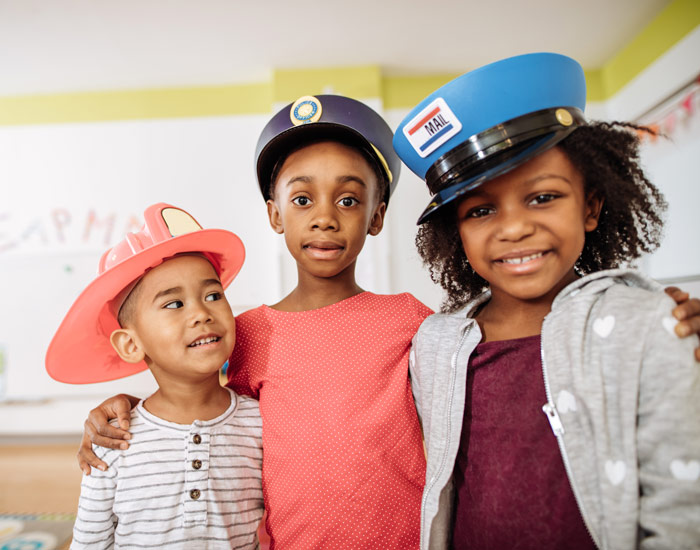 We're Here to Put Your Children on the Path to Success
Our patient and nurturing teachers work tirelessly to guide students to make good choices by emphasizing self-esteem, exploration, and experimentation. Our curriculum focuses on four important areas:
Reading: Reading is essential to the development of young minds. At Just Children Child Care Center, our goal is to not only enhance your child's reading abilities but to foster a passion for reading that will carry them throughout their life.
Problem-solving skills: Solving problems is a part of everyday life. At Just Children Child Care Center, we believe in encouraging independent thinking. Our students leave our program with an enhanced ability to solve problems on their own.
Independence: We want your pre-schooler to develop the skills that will help them succeed later in life. We encourage self-awareness and learning to help them achieve that goal.
Socialization: Your children will have to get along with other children as they get older. We believe the skills that allow effective socialization begin with teaching both self-respect and respect of others.
We're passionate about instilling a love for learning in your young ones. Nothing satisfies us more than communicating with the parents of our students how well they're doing. We'll keep you involved throughout the school year.
We Offer Kindergarten Education As Well!
Pre-school is just the prelude to Kindergarten. The parents of the children we teach value a seamless transition between pre-school and kindergarten. That's why Just Children Child Care provides Kindergarten education, in addition to pre-school in Camden County. We serve parents and their children throughout New Jersey and Pennsylvania. We have 10 schools staffed with state-licensed educators with CPR-certification. We're always available to answer questions, so feel free to use our online form.
Now Enrolling!
Full or Part-Time Flexible Days Available