Skip to Content
Individualized Child Care
We understand that going back to work for the first time after having a baby is a stressful and emotional day. It marks the first time you've been separated from your baby for a significant period. Your baby is the most important and life-changing person in your life, so you want to know they will be well cared for in our infant room. Just Children Child Care Center is a trusted resource for child care in Pennsylvania and New Jersey. We strive to establish a loving and enriching environment for your child. Babies need warm and nurturing relationships with adults to thrive as they grow older. Come and visit us and you'll find our dedicated caregivers on the floors playing with children. A visit to our child care facility is full of smiles.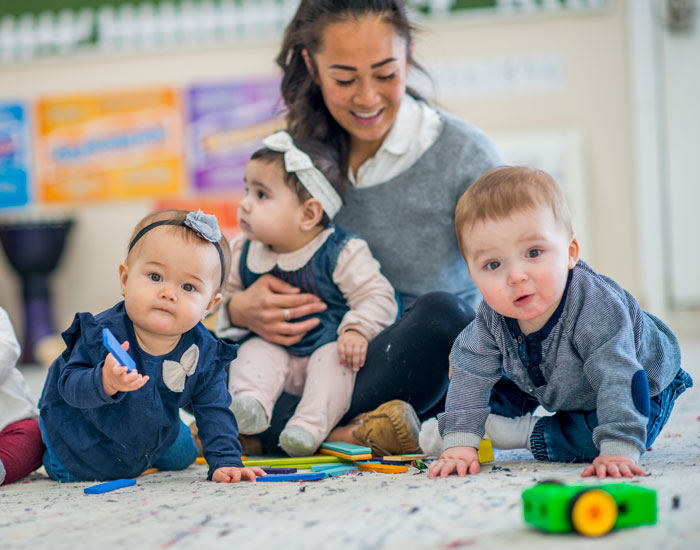 We Make Sure Your Child is Safe and Secure
So what can your baby expect from their day at Just Children Child Care Center?
Our infant rooms are secure. We know toddlers, preschool, and kindergarteners have vastly different needs. That's why we make sure to keep infants separate from other children.
Your child will have their own crib. We know how important it is to maintain routines at such a young age.
We begin caring for babies at 8 weeks old, and many are beginning to crawl, so our infant room is childproofed, and the books and toys in the infant room are safe for use by your babies.
We make sure their daily routines are not disrupted, from feeding to sleeping and playing. We'll sing, read, and talk to your infant.
Beyond the interactions and love we give your children, we make sure to communicate with you. As certified caregivers, we understand that what is happening at home is as important as what happens here. We make sure to adjust our care based on the need of your child. Just Children Child Care Center's baby daycare gives parents the peace of mind to go back to work.
We Have 10 Schools in Two States
We encourage parents to visit any of our 10 centers throughout New Jersey and Pennsylvania. Each of our schools has built a reputation for caring child care in the Philadelphia region and Mt. Laurel.
Now Enrolling!
Full or Part-Time Flexible Days Available