Skip to Content
Prepare Your Child With Our Kindergarten Program
Unlock a Lifelong Love of Learning in Philadelphia and New Jersey
Since 1983, Just Children Child Care Centers has focused on cultivating a positive environment for kindergarten-age students in Philadelphia, Feasterville-Trevose, Mount Laurel Township, and Bensalem. Our compassionate and state-licensed teachers have the skills, resources, and experience necessary to help provide your son or daughter with the guidance they need to thrive in the classroom and life. Kindergarten is an important milestone for many parents and students. It sets the stage for your child's education. Our curriculum balances in-classroom learning with playtime, crucial to helping nurture a lifelong love of learning. We believe their kindergarten experience should provide them with the tools to succeed during the school year while preparing them socially and academically for the primary grades. The most crucial aspect of our teaching is to instill a lifelong love of learning. Enroll your child today and learn about how our exciting kindergarten program can help them succeed.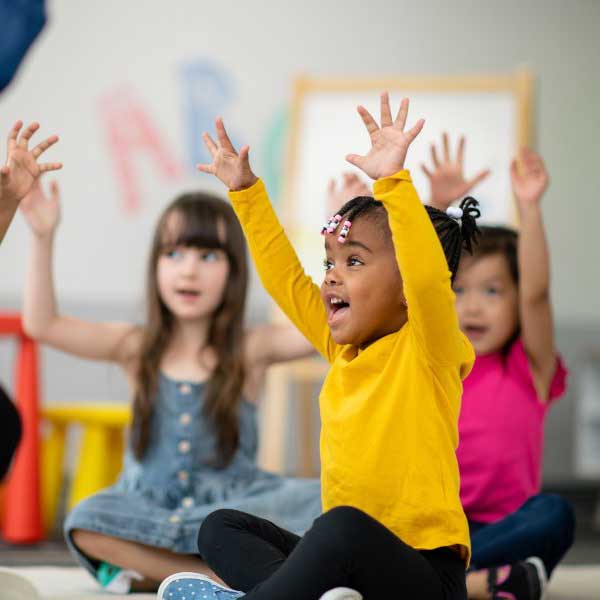 More Parents Choose Just Children for Their Kindergartner
Enrolling your child in the right kindergarten program is crucial. Students who don't receive the support and tools they need to succeed today may have difficulty catching up as they continue their education. At Just Children Child Care Centers, we ensure that all our teachers are equipped with the resources and skills so every child gets the attention and care they need and deserve. Our commitment to providing a positive classroom environment has made us one of the premier kindergarten programs in the area. Every day our teachers welcome their students and work towards shaping them into the leaders of tomorrow. Learn more about why parents enroll their children in our kindergarten program:
Family-Owned – As a family-owned program, you can expect a different level of care. Our goal is to allow every child to express themselves so that they can succeed inside and outside the classroom. Our teachers are always available to guide them throughout their education journey.
State of the Art Classrooms – Technology in the classroom makes education more fun and efficient and provides students with hands-on opportunities. Every classroom is equipped with computers and other technology that will give your child an educational advantage. We also have a safe, elaborate outdoor playground to promote your child's development of gross motor skills.
Eight Convenient Locations – We know that for working parents, convenience is crucial to deciding where to enroll your child. We have eight convenient locations throughout Pennsylvania and New Jersey. Every day our classrooms welcome students from throughout the area. Find the nearest location and give your child the best chance to succeed today and throughout their educational journey.
State Licensed Staff – At Just Children Child Care Centers, we're dedicated to providing the best educational experience for your child. All our teachers are state-licensed, meaning they have the skills and expertise to provide expert-level guidance and care for your child. They are also CPR-certified, so you know they are safe throughout the day.
Keystone STARS Recognized Kindergarten Program
At Just Children Child Care Centers, we're dedicated to creating a well-rounded curriculum as the foundation for your child's educational journey. Our classrooms benefit from state-recommended guidance and our unique approach to education to create an effective curriculum. Through our partnership with Keystone STARS, you can feel confident your child is being supported in a safe and respectful classroom that will capture their innate curiosity. Keystone STARS is the Pennsylvania Department of Education's Quality rating system for standards, training/ professional development, assistance, resources, and support. We not only focus on in-classroom learning but social and emotional learning as well. Learn more about how our curriculum prepares your child for tomorrow's challenges as well as their future:
Math – We don't focus on memorization. Instead, we help children better understand math concepts such as number recognition and addition and subtraction principles. Our curriculum gives them the building blocks they need as they continue to learn new ideas throughout the school year and beyond.
Science – Kindergarten-age children are curious about the world all around them and how they fit into it. Our science programs allow them to explore and define their environment in a classroom setting with groups and as individuals.
Social Studies – Social studies study human societies, social relationships, geography, and much more. Students will work on concepts individually and in large and small groups with the guidance of state-licensed teachers and education staff.
Literacy – Literacy is crucial for kindergarten-aged students. Our curriculum includes reading and writing. They'll continue to build on these concepts throughout the year and life. Literacy is crucial for applying critical thinking concepts.
Social-Emotional – One of the most critical and often overlooked aspects of kindergarten classrooms is developing social-emotional skills. Conflict resolutions, cooperation, building friendships, self-confidence, and many other social skills are learned in our classrooms. These skills are valuable inside and outside of the classroom.
Extra-Curricular – Our teachers organize other extra-curricular activities, including sports, field trips, nature studies, and class picnics. Studies have proven that children retain more knowledge when learning is fun and exciting, which is why we do our best to ensure your child is constantly engaged with plenty of learning activities in our secure, nurturing environment.
Answers to Your Common Kindergarten Questions
At Just Children Child Care Centers, we're committed to ensuring parents and their kids have all the information they need before enrolling in our kindergarten program. We want you to feel like you're making the right decision to help your child thrive in a supportive and nurturing environment. Our teachers and educational staff are here to answer any questions you may have about our programs and other offerings. Below are some of the most common questions many parents have about our programs. Learn more about our programs by finding the answers you need:
What Age Do Kids Start Kindergarten? – Students must be at least five years old on the first day of the school year to enroll in a kindergarten program. At five years old, children are ready to learn and explore. Sending them to a kindergarten program will help improve literacy, language skills, and social-emotional learning.
What Is STEAM? – STEAM is an educational philosophy thatfocuses on science, technology, engineering, the arts, and mathematics as a guideline for helping children explore their interests and develop critical thinking skills. We believe STEAM lays the groundwork for a lifelong love of learning that guides children to become leaders.
Does Your School Have a Good Student-to-Teacher Ratio? – Ensuring your child has the proper resources and attention is of the utmost priority. All our classrooms maintain a low ratio, so your child gets the care they deserve.
Does Your Program Have Year-Round Offerings? – Yes! We offer before and after school care services that extend the amount of time your child can learn, play, and grow. We also have a summer camp program. We'll apply the same teachings during the school year to our summer camp programs in an independent setting.
How Does the Program Decide on Age-Appropriate Academics? – Our state-licensed teachers are mindful of each student's strengths and weaknesses. We customize our programs to ensure each child is given the support they need to succeed.
How Will You Communicate My Child's Progress? – We always encourage parents to reach out to us regarding any questions or concerns about their student's progress. We also provide progress reports, report cards, and newsletters. You'll also meet face-to-face during parent-teacher conferences.
Enroll Your Child in Our Kindergarten Program Today
Just Children Child Care Centers has been the leading educator for kindergarten care. Our state-licensed and experienced teachers cultivate a nurturing and safe environment to give students the chance to succeed in the classroom and beyond. Our STEAM approach will lay the foundation of your student's kindergarten education and provide them with the tools and skills to succeed. As a keystone STARS program, you can feel confident your child's getting a well-rounded experience that focuses on math, literacy, science, social studies, and more. If you'd like to enroll your child in our kindergarten program, contact us today to schedule a school tour.
Now Enrolling!
Full or Part-Time Flexible Days Available