Skip to Content
Child Care Programs in Feasterville-Trevose, PA
Child Care Services for Children in Pennsylvania
Parents are busy and need to balance their parental responsibilities with errands, work, school, and many other adult concerns. Just Children Child Care Centers can help with our outstanding child care programs for Feasterville-Trevose, PA families at our 2607 Interplex Drive location. Our staff has ample training, a remarkable child care skill set, and experience providing warm, supportive care to children of various ages. We offer child care that ensures a safe, comfortable, and engaging environment for children while you care for your career, classes, and daily concerns. Our dedication to teaching, nurturing, and building confidence in children is a staple feature of our fully licensed and family-owned child care centers. You can count on us for innovative classroom atmospheres as we stay current on the latest early childhood education methods.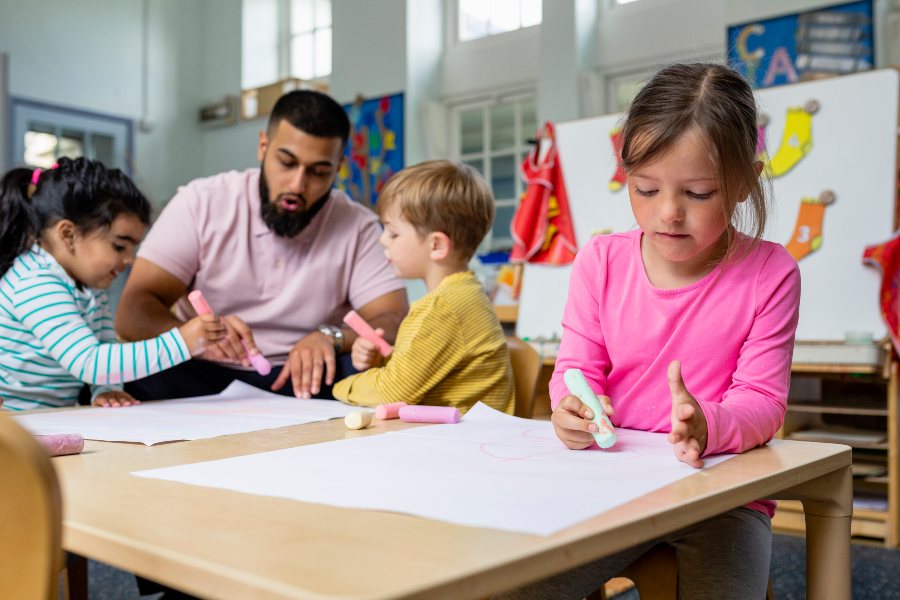 Innovative Child Care Programs for Your Children
Your early childhood care needs are covered with Just Children Child Care Centers' collection of child care programs. We have comprehensive options for families, such as toddler care, preschool, kindergarten, and school programs. Additionally, you can take advantage of our special programs specially designed to nourish your child's education and enrich their experiences. Children get benefits like state-of-the-art equipment and entertaining playgrounds at all our schools. We also help your child develop positive decision-making skills because our staff encourages them to explore creatively. You can trust us to care for your child at various developmental stages. Your child might be an infant, toddler, or kindergarten age. We've described our programs to give you a little insight:
Infants – If your baby is at least eight weeks old, we can accept them at our center.
Toddlers – Our program introduces your toddler-aged child to music and art while encouraging learning. Toddlers also get a lot of playtime.
Preschool – Your three- to four-year-old child is ready to attend preschool, and we use this year to instill a lifelong love of learning.
Kindergarten – We create passionate kindergarten learners by combining the STEAM program with primary school preparation.
Programs for Summer & Before & After School
Professional child care is within easy reach for your children before and after school while you handle your adult responsibilities and support your household. Just Children Child Care Centers offers a safe and engaging environment for children to have fun and complete their grade school homework before they go to class and after the last bell rings. We have several child care locations with exhilarating atmospheres for school-aged children, including a fun-filled summer camp for after their school year ends. At our summer camp, children get to indulge in exciting activities covering music, movement, gymnastics, and outdoor fun. With year-round child care opportunities, you can relax knowing your child is in a safe and fun learning environment run by friendly, responsible adults. Your children can grow and develop their minds and bodies, making them happy, productive students.
Contact Us for Child Care in Feasterville-Trevose, PA
Just Children Child Care Centers is ready to provide your child with a fun and educational atmosphere, whether they're an infant, toddler, or grade-school student. Our professional training and experience have shaped our centers into exceptional child care experiences that enrich and entertain our attendants. Child care should include safe and fun programs designed to help children learn and develop into healthy, lifelong learners. We offer comprehensive child care options at all our centers to ensure your children have a nurturing, supportive place to go with the latest care methods and stimulating programs. Contact us today to learn more about our programs and register your child at our child care center in Feasterville-Trevose, PA.