Skip to Content
How can preschool help your child develop?
Can preschool help your child develop?
When you have a young child, it can seem like every decision you make is of the utmost importance. Parents often agonize over their choices, worrying that one misstep can have dire consequences for their child's future. One decision that is hotly debated is the choice between keeping little ones home or enrolling them in preschool, and it can be hard for parents to decide with friends and family members weighing in. Don't worry! We're here to show you why this choice is really not that difficult.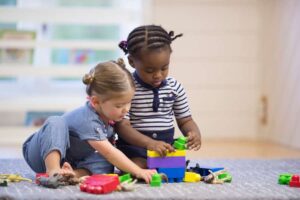 First, let's answer the question, what age is preschool? There are many who believe children should be in daycare from six weeks on, and others who believe that it's essential to enroll them in preschool by age two. Every child is different, and parents must decide what's best for their unique child, but typically, pre school is for three and four year old children. That might still seem little to be going off to school, but there are some very good reasons children this age benefit from preschool.
Preschool lays the foundation for classroom learning. By providing a structured environment in which to pursue their interests, preschool gives children a glimpse of school without an overly academic environment that can feel stifling. Children learn to walk in a line, wait their turn, share, and follow directions. Preschool is also a place where children develop cognitive skills, learning to observe the world around them and ask questions.
Children learn social skills in preschool. By interacting with people outside of their families, they learn how to get along. They learn to take care of each other and themselves, and preschool teachers take advantage of teachable moments to guide them into healthy interactions. They learn how to make friends, how to communicate, how to listen, and how to cooperate. They learn to self-regulate, and they develop problem-solving skills.
Preschool age children learn through play. If you believe that in preschool, worksheets are the norm and kids are sitting doing busywork all day, let us correct that notion. A good preschool gives children the freedom to play and learn by doing. Imaginations are nurtured, and the preschool environment is one in which children can ask questions, choose their activities, and express creativity.
Preschool promotes kindergarten readiness. Kindergarten is increasingly academically focused, and children are expected to be ready to learn math and reading that very first year of elementary school. While preschool curriculum is nowhere near as stringent, it does provide structure for children and a foundation that will help them succeed in kindergarten and thrive in school.
Pre-literacy and pre-math skills are developed in preschool. Children sing songs, play games, and learn rhymes to help them get ready to read. They play sorting, counting, and matching games to build their readiness to learn math. They play with magnetic numbers and letters and listen to stories, after which they engage in lively discussions. Preschool may not seem very structured, but everything the children are doing is preparing them for success in life. An understanding and awareness of letters, numbers, patterns, and sequence is a big part of that.
In addition to academic skills, preschool kids develop their motor skills. It's important for children to be ready to read and write when they go to kindergarten, but that's not the only kind of skill they need to have. Preschool activities like stringing beads, coloring, and cutting with scissors help them develop their fine motor skills, while opportunities to run, jump, and climb on the playground build gross motor skills. A good preschool helps nurture the whole child, physically, emotionally, socially, and psychologically, as well as academically.
Children in preschool learn to be responsible people. They're taught to pick up after themselves, wash their hands before eating, and keep their personal belongings in their cubbies. Teachers assign developmentally appropriate tasks, like setting the table for snack, fixing the calendar, or helping to set up an activity, and they sometimes give children the opportunity to help each other. All of these little things give children a sense of purpose and boost their self-confidence.
Preschool is a safe space for kids to explore the world outside of their homes. This is where they develop bonds with people outside of their homes, building trusting relationships with their teachers and warm friendships with their peers. Beginning in preschool, parents and teachers work as a team to help foster the child's development with mutual respect and cooperation. Children are introduced to new concepts and get to try new things, in the safety of a nurturing, caring environment.
Of course, finding the right preschool is key, and parents should research and tour facilities before deciding where to place their child. When you're looking for high quality childcare, trust Just Children to care for your little ones. Founded in 1983, our family-owned, fully-licensed centers provide a unique learning environment where we help children build the skills they need to succeed in life. Our year-round programs in Bucks County, Philadelphia, and New Jersey are convenient for working parents, and we design every program with age-appropriate activities that allow kids to learn, grow, and explore. We're dedicated to creating a worry-free experience for parents while enriching the lives of children and providing a safe, nurturing environment with the highest standards of care, creativity, and learning. Visit our website to find a location convenient to you, or contact us to ask questions or schedule a tour.
Now Enrolling!
Full or Part-Time Flexible Days Available