Skip to Content
What Makes a Good Bucks County Preschool?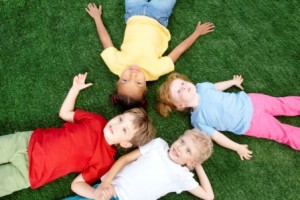 You're a parent who's concerned about both the educational and personal development of your preschool-age child. But in the Eastern Pennsylvania and Southern New Jersey regions, where Just Children has eight different locations, there exists an almost overwhelming number of preschool choices. How exactly is a parent supposed to know if one school is any better than the next? (Or, for that matter, any worse?)
Two of the most important qualifiers we look for in any preschool can be summed up in just four words: engagement and interactive conversations.
Why? According to an article in TIME magazine, research has shown that "early classroom experiences can have a major impact on later learning and academic performance, especially when it comes to language." The article suggests that "when preschool teachers engage children more in interactive conversations that require the youngsters to think and respond creatively, they go on to develop a more advanced vocabulary by kindergarten, which in turn translates to stronger reading and expressive skills by fourth grade."
When you're on the hunt for higher-quality toddler education, in other words, you'll want to look for teachers who use complex thinking skills and reasoning when interacting with children, as opposed to the simple patterns of memorization and repetition that so often passes for preschool education.
There are other signs to look out for, of course. It's important that each child in a preschool setting gets at least some individual attention and instruction throughout a given day. Out-of-doors playtime should be a regular occurrence, assuming the weather allows it.
And when you're visiting potential preschools, take a look at the toys and activities to which the school's children have access. Pay close attention to the variety of activities on offer—is there a decent mix of art materials, books, and toys or props to encourage imaginative play?
Also take note of how and where the preschool's toddlers are directing their attention: If all the school's children are consistently focused on the same activities at the same time, that's not a good sign. Which means, of course, that you'll also want to look for preschool teachers who recognize that different children learn in different ways, and that curriculum often needs to be adapted for advanced learners and slow learners alike.
Just Children Child Care Centers operates eight separate facilities in Eastern Pennsylvania and Southern New Jersey, and we're confident that you'll be pleased with everything you see during a visit to any of our eight locations. We encourage parent involvement and participation in each of the four levels of our program.
We invite you to schedule an appointment: Contact us today!
Now Enrolling!
Full or Part-Time Flexible Days Available